Introduction:
Urban landscapes are often dotted with estates and mini-courts featuring identical duplex buildings, which have prompted discussions about the need for more creative designs. In this blog post, we'll explore some simple yet luxurious design ideas for duplex housing that can transform your dwelling into an elegant and captivating space.
Modern Duplex House Designs:
To infuse modernity and elegance into your duplex, consider the impact of external lighting. Properly chosen lighting can work wonders in turning your duplex into a charming and attention-grabbing residence. From hanging lights to wall fixtures, lanterns, or even fire pits, a wide range of outdoor lighting options can enhance your house's overall appearance. Explore the possibilities to give your home a captivating glow that stands out.
Budget-Friendly Duplex House Design:
Contrary to popular belief, duplex houses don't have to be extravagant. It's possible to create a budget-friendly and modern duplex even on a limited plot area. The key lies in efficient space utilization. Dedicate the lower floor to the living room, kitchen, and a pooja room, while reserving the upper floor for bedrooms. You can even include a balcony connected to the upper-floor bedrooms for added charm and a pleasant view.
Duplex House Designs With Car Parking:
Many duplex owners opt to use the available space to build their house, leaving their vehicles parked outside. In such cases, covered parking is a practical choice to protect your vehicles from external damage. Ensure there's enough space for larger vehicles like SUVs to accommodate future purchases. This guarantees your duplex is well-prepared for any newer vehicle models.
Duplex House Design Ideas With Garden:
If you have a larger property, consider dedicating part of it to a garden. Rather than building the duplex in the center of the plot, create a garden with grass and trees in the frontal area. This not only offers a picturesque view but also provides space for gardening. This land can be used to grow vegetables or fruits, adding a natural touch to your duplex.
Garage Space for Modern Duplex Design:
If your floor plan allows, installing a garage on the lower level can be a valuable addition. Apart from vehicle parking, a garage can serve as a storage facility for furniture, toys, and household belongings. It can also be a space for various activities and artwork. A closed garage is a secure place for cars, motorcycles, and bikes. You might even consider renting it out if you don't own a car, providing an additional source of income.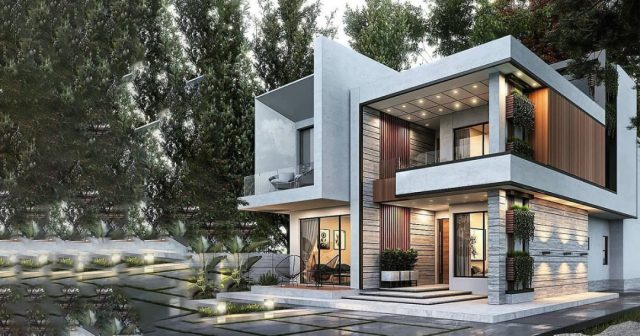 Duplex Houses with Sloped Roofs:
Sloped roofs offer several advantages, including natural ventilation and protection from elements such as wind, snow, and rain. The sloped design directs rainfall away from the structure, preserving its exteriors. Additionally, maintenance costs for sloped roofs are generally lower than flat roofs, making them an attractive choice for your future duplex house.
Duplex Houses with Shared Walls:
In space-constrained urban areas, building duplexes with shared walls is a cost-effective and space-efficient solution. These compact duplexes may not feature open gardens but are well-suited for small families. Don't overlook the potential of these self-contained homes, as they represent the future of urban housing.
Duplex Houses with Wooden Exteriors:
Wood, a traditional building material, can be used not only for interiors but also for exterior finishes. When opting for wooden exteriors, ensure the wood is weather-proofed. Subtle exterior colors and vibrant hardwood finishes can make your duplex stand out, providing a unique and appealing look.
Vibrant Exterior Colors:
Exterior paints play a vital role in creating the first impression of a property. You can make your duplex design vibrant and appealing by using various colors. Each color is associated with specific moods, and your choice can influence the atmosphere. For instance, blue represents tranquility, green brings the outdoors inside, purple conveys royalty, and red exudes power and confidence.
Conclusion:
By embracing open-concept living, incorporating striking architectural elements, designing luxurious master suites, and creating inviting outdoor spaces, you can create a duplex that effortlessly blends simplicity and luxury. Remember to infuse elegance with practicality to meet both aesthetic and functional needs. Unleash your creativity and design a duplex that captures hearts and makes you fall in love with your home every single day.
Get ready to create a space that captures hearts and makes you fall in love with your home every single day. Happy designing!